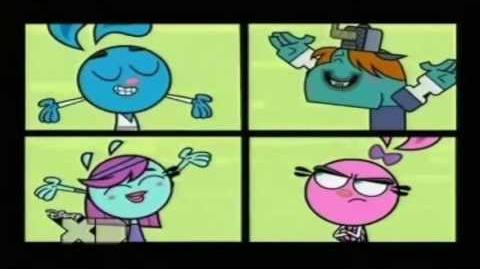 "
Stuck
" is the 34th (second part) episode of Yin Yang Yo!
Synopsis
Yin, Yang, Lina, Dave, and Roger Jr. travel to an island (a la LOST), where they are all captured by Smoke except for Dave. Can Dave call upon his warrior spirit and save his friends?
Plot
Yin, Yang, Lina, and Roger Jr. are bored out of their minds until a mysterious mail carrier (who is really Smoke in disguise) gives them a coupon for a free vacation to an island. Yin points out that it's probably a trap, but because there's nothing else to do, they decide to go anyway. Dave asks to come along too, but is denied. Determined to go with everyone else, Dave sneaks aboard the ship and is reluctantly taken along for the trip. Yang has the crew sing a song that he wrote, immediately before they crash into their mysterious island destination. The five of them split up to gather fruit, and Roger Jr., Lina, and Dave open strange doors in the ground (a reference to "the hatch" in LOST), releasing three strange monsters. These monsters (one of which is a giant smoke-like creature, another LOST reference) are revealed to be Smoke's newest Forever Friends, and she initiates a battle which sees Yin, Yang, Roger Jr., and Lina captured. Dave, being the only free one, is left to fight alone, until he realizes he can communicate with trees. He commands his relatives to beat all of Smoke's Forever Friends, and saves his friends. The other four then chop Dave in half and use him as a raft to get back home.
Trivia
This episode features Smoke as the main antagonist
This episode is a direct parody of LOST, including many elements from the show, such as hatches in the ground, the joke title presented in the same fashion as the one in LOST, mysterious smoke monsters, and "the whispers".
This is the first episode to feature Dave's warrior side and his ability to communicate with plants
The game Yin and Yang were playing, Giggity Giggity, was a reference to Glenn Quagmire from the popular animated sitcom Family Guy.