"Halt, I say! Or feel my legislative power!"
-Muffin, Commander-in-Cheat
Muffin is the President of the Town. His real name is unknown, as Carl randomly started calling him Muffin the first time he captured him, and everyone else (including the President/Mayor himself) has been using it ever since. He's a bit egomaniacal, often losing sight of what's moral. He cares mostly about his publicity and popularity (although he does care for his cat PuddinPaws), and is even willing to take credit for the deeds Yin and Yang perform in order to attain it. He hired Yin and Yang in Commander-in-Cheat as his body guards, but didn't pay them on the grounds that it was their "civic duty". Usually, he is attacked by Carl, and has to of yet been captured by anyone else except for in the episode yindianapolis in which he was held in the boot of their car by smoke and mirrors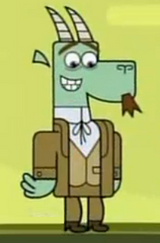 Community content is available under
CC-BY-SA
unless otherwise noted.