Herman also known as Brother Herman is the emperor of Antsylvania, who wants to use his massive army to take over the world, which is something that he often comes very close to doing. Despite his past failures, Herman refuses to let go of his ambitions, and his armies are always ready to march on a moment's notice. He also has a Scottish accent for some reason even though his mother and brother don't as they have American accents and even uses several words that are Scottish in origin such as laddie
Herman is considered a "momma's boy" due to Edna's favoritism, in just about every scene she is shown to praise him highly much to the irritation of his brother Carl.
Despite his small stature, Herman is one of the strongest individuals in the world and makes use of that fact in order to force people into doing what he wants.
Powers
He is very strong for his size (like other ants). He also can lift boulders and trees with no effort. He once used his strength to make a clap so strong to creating powerful shock wave. However, he has an allergy to Panda hair, which Master Yo uses to his advantage.
Appearances
Gallery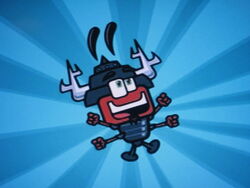 Community content is available under
CC-BY-SA
unless otherwise noted.