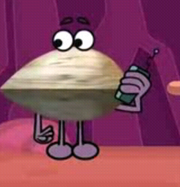 Clamuel the Clamboy is really a clam boy and has an appearance in For the Love of Clamboy. Yin found him under the sea and saw his jewels. Clamboy asked Yin if she could be his friend. Yin accepted but wanted nothing more than his jewels. Later, Yang found an interesting information: Yin must be married with Clamuel 100 clam years. If she won't he turns into a big monster but Yin can't hear the information. The problem was that Clamuel must have a kiss today. Otherwise, the same thing would happen. Afterwards, Yin doesn't accepted to marry and kiss Clamuel. He was sad and turns into the evil monster. Yin and Yang could defeat him and Yin accepted to marry him for 100 clam years. Clamuel turns now into a very strong and handsome man. Yin fell in love but 100 clam years are for other people (or animals) only 30 minutes. The end of the story was that Yin has no boyfriend anymore and no more jewels.
Community content is available under
CC-BY-SA
unless otherwise noted.