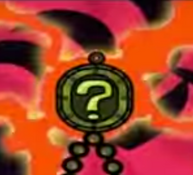 The Amnesulet is an amulet that induces amnesia to the user's target; also, it's very known to be used by the Night Master in a last ditch effort to escape Master Yo's wrath, creating a world where Woo Foo was seen as stupid in season one. In season two:
Deja Foo
It was founded by Ultimoose in purpose to be new night master and he channeled it with the black bamboo staff, but Yang used the reset button to return back time for two times and he took the Amnesulet to his bedroom waiting for the another Woo Foo weapons to take.
Welcome to the Dark Tomorrow
Yang take it with Lick-n-stick, Tooty-fruity fro of double duty and Woo-Foo suspenders and bow-tie to the night masters lair to destroy it but all of this weapons resurrect Eradicus and the Amnesulet was connect with Lick-n-stick. On the end of the episode the Eradicus was defeated because the magic stick was broken and that was last time seen the amnesulet and less important Lick-n-stick.
Community content is available under
CC-BY-SA
unless otherwise noted.